In the News…New Blood Pressure Guidelines Announced
In November 2017, the American College of Cardiology (ACC) and the American Heart Association (AHA) made headlines around the globe raising awareness about hypertension, the silent killer, and completely eliminating the well known category of "pre-hypertension."
By lowering the definition of high blood pressure from 140/90 mmHg to less than 130/80 mmHg, the organizations are attempting to reduce life threatening heart attacks and strokes through earlier diagnosis and intervention. With this change, the ACC and AHA predict that nearly half of the U.S. population will now be diagnosed with high blood pressure, and over 35% will need blood pressure medication. The greatest impact is expected in younger adults. For example, in the Houston area, we expect the prevalence of high blood pressure to more than double for women in their 40s.
The old guidelines have been in place since 2003 and the new lower thresholds reflect years of important research on the benefits of good blood pressure control. In fact, a panel of over 30 reputable scientists and health experts representing nine organizations created our new guidelines after reviewing more than 900 published blood pressure studies.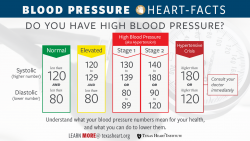 The new guidelines also stress the importance of proper blood pressure readings, placing emphasis on the ideal way for professionals to measure readings.
Here are some tips for your next visit or the next time you check your blood pressure at home:
DO
Sit up straight with feet flat on the ground, legs uncrossed and arms supported by a surface
Rest silent for at least 5 minutes before performing first reading
Perform at least 3 readings and take the average
Take readings on both arms if reading is high
Go to the bathroom before reading
Take measurements on bare skin
DON'T
Take your measurement laying down
Drink caffeinated beverages, exercise, or smoke 30 minutes before your reading (…I prefer you never smoke)
Tips for keeping your blood pressure low:
Keep a healthy lifestyle.
Check your pressure regularly using validated home monitoring devices.
Start eating a low-fat and low-salt diet.
Lose weight, if you need to.
Begin a regular exercise program.
Learn to manage stress.
If you smoke, quit.
Drink alcohol in moderation, if at all.

Remember, moderate intake is an average of one or two drinks per day for men and one drink per day for women.

Control obstructive sleep apnea (OSA), if you have it. Many patients who get their OSA under control see improvements in their blood pressure.
Know Your Numbers, and share these new guidelines with your family, friends and loved ones this Holiday Season.
Until next time!


Stephanie Coulter, MD
---
Special Thanks to Jaqueline Ferrufino, Dr. Karla Campos and Keri Sprung for their assistance with this issue of Straight Talk.
Visit the Journal of the American College of Cardiology and Hypertension to review the full published guidelines.
---
Do you have a topic that you would like to learn more about from Dr. Stephanie? Send us an email at women@texasheart.org and your question may be the next Straight Talk topic!
We are saving hearts and trees. The Women's Heart Health E-News is sent via e-mail and posted online. Sign up today.