Recipes with Heart | Shaved Cauliflower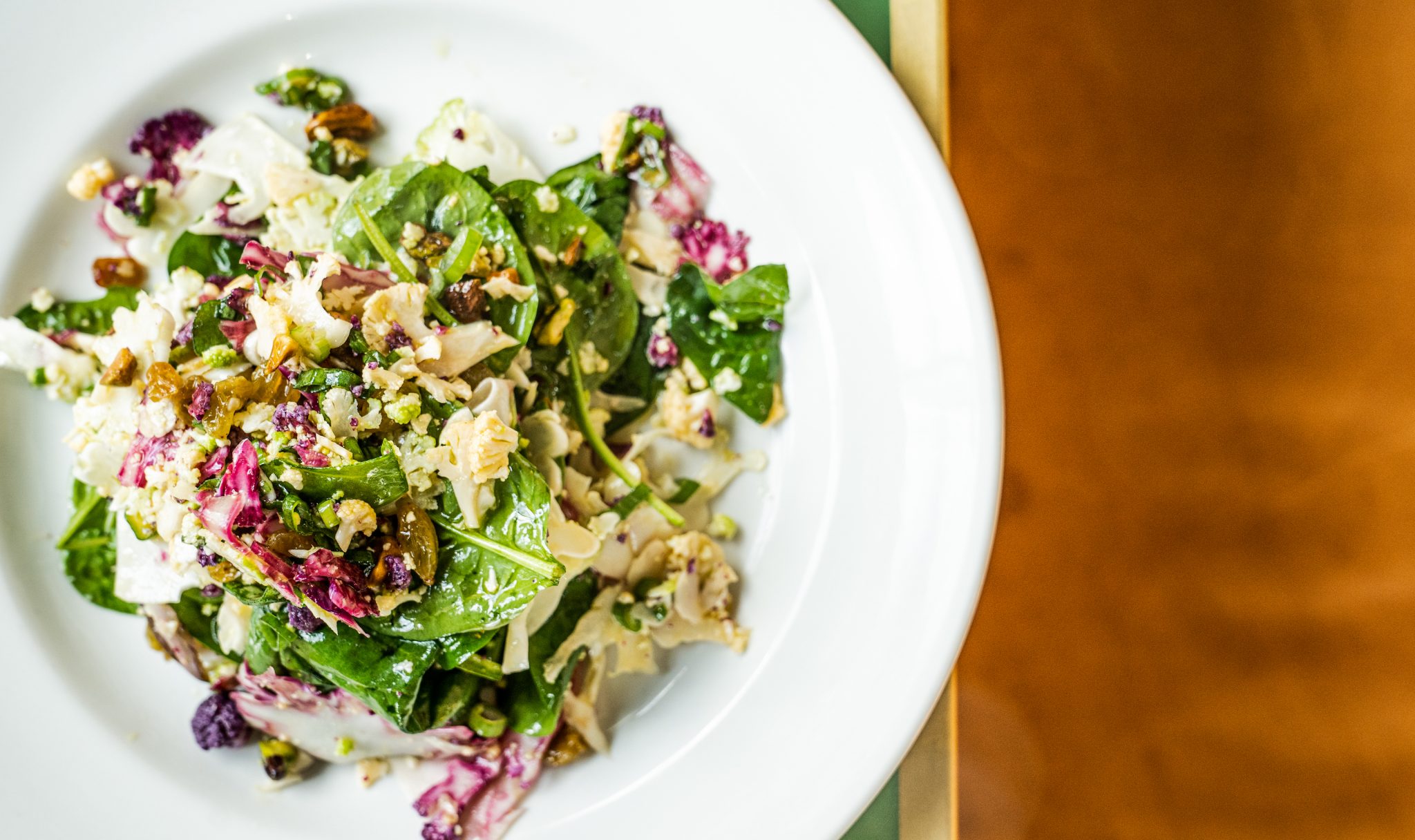 Ingredients:
1 head of cauliflower
2 cups of tatsoi (or baby spinach works as well)
1 cup of toasted pistachios (chopped)
1 cup of golden raisins
½ cup of sliced scallions
2.5 oz of white balsamic vinegar
4 oz extra virgin olive oil
Salt and pepper to taste
Instructions:
Slice one head of cauliflower on a Japanese mandolin on fine setting into a large mixing bowl.  Add all ingredients.  Season with salt/pepper, vinegar & extra virgin olive oil to taste. Serve immediately.
---
About Chef Travis McShane
Ostia – meaning "host" in Italian – is the brainchild of rising star Chef Travis McShane, a University of Texas and CIA graduate who has spent more than a decade rising through the ranks in the kitchens of acclaimed chef Jonathan Waxman. Working his way from extern to line cook to Executive Chef at Barbuto in New York and, later, at Adele's in Nashville, Chef Travis ultimately advanced to the position of Corporate Chef for Waxman – overseeing all culinary operations and menus for his restaurants in New York City, San Francisco, Nashville, and Atlanta.
The Houston native's culinary prowess is now on full display at the Italian-and Mediterranean-inspired concept – the totality of which embodies the cuisine, ambiance and philosophies learned from his extensive travel experiences throughout Italy and Europe.
"At its heart, Ostia is a neighborhood restaurant, a place to hang out with friends and family to enjoy a delicious meal together whether you live around the corner or not," said Ostia Executive Chef / Owner Travis McShane. He added, "My wife Charlotte and I have had amazing culinary journeys, many of which have shaped me personally and guided my vision. Our goal is to bottle those experiences up and serve them to Houston diners in a unique, approachable, and thoughtful environment. We aim to be an every occasion dining destination that happens to serve remarkable tastes in a memorable atmosphere."