Texas Heart Collaborates with Popular Houston Restaurant for AHA Eat Smart Month
Executive Chef Travis McShane Is Sharing The Ingredients To His Shaved Cauliflower  – A Decidedly Heart-Healthy Dish On The Ostia Menu; The Restaurant Will Highlight The Dish Throughout The Month
HOUSTON, TX (November 7, 2020) – Ostia, the buzzy new Montrose New American culinary concept from Executive Chef Travis McShane, is collaborating with Texas Heart Institute (THI) – the internationally lauded research and educational center dedicated to the prevention and care of heart disease – on a health-forward initiative during the month of November in recognition of the American Heart Association's Eat Smart Month.
For its part in the collaboration, Ostia will highlight Chef McShane's signature Shaved Cauliflower recipe during the month of November. McShane specifically selected the recipe because of its heart-healthy mix of ingredients, including fresh cauliflower, tatsoi, golden raisins, pistachios, and olive oil.
"I am overwhelmed by the response of the Houston community to Ostia in the short time that it has been open, and I am now thrilled to extend Ostia's community engagement efforts in support of worthwhile Houston non-profit organizations such as the Texas Heart Institute," McShane emphasized. He added, "The Shaved Cauliflower dish is the most heart-healthy recipe on Ostia's menu, and its ingredients perfectly complement one another in such a way as to be good for the person eating it without losing out on flavor."
Open as of Friday, September 25, Ostia is a seasonally driven New American restaurant concept in Houston's eclectic Montrose neighborhood. Ostia boasts a la carte meats, pastas, seasonal salads, and diverse sides – the totality of which is rooted in the philosophies of farm-to-table, seasonality, and simplicity focused on sourcing local and sustainable food. Thus, a collaboration on an initiative that promotes heart health proved to be a no-brainer for McShane.
"Eat Smart Month is an important reminder that individuals should always be thinking about what they are putting in their bodies from a nutritional standpoint. At this time especially, during the global coronavirus pandemic, one's diet runs the risk of falling by the wayside in terms of nutritional value. Eat Smart Month is a great time for those who may not have been eating great over the past few months to refocus and get back on the right track," noted Texas Heart Institute and recently launched Texas Heart Medical Group professional Dr. Stephanie Coulter. She added, "THI applauds Ostia for emphasizing heart-healthy ingredients and encourages anyone looking to eat healthy during November to pay a visit to Ostia and try the Shaved Cauliflower."
 Texas Heart Institute, which has played a critical role in major cardiovascular breakthroughs since its founding in 1962 by legendary heart surgeon Dr. Denton A. Cooley, recently launched its first-ever in-house clinical practice – Texas Heart Medical Group. THMG now serves as a home base for twelve outstanding cardiologists who are also leaders in the subspecialty fields of cardiac imaging, interventional cardiology, peripheral vascular disease, and electrophysiology.
THMG's doctors are committed not only to treating patients but also to being advocates for steps individuals can take in their daily lives to prevent the deleterious effects of cardiovascular diseases – such as incorporating heart-healthy ingredients into their daily dietary routines. The collaboration with Ostia marks an initial step for THMG in its ongoing quest to do everything in its power to overcome heart disease, which is the leading cause of death in men, women, and people of most racial and ethnic groups in the United States, according to the CDC.
###
ABOUT OSTIA
Ostia (2050 Dunlavy Street) is a new seasonally driven New American restaurant concept by Executive Chef / Owner Travis McShane in Houston's eclectic Montrose neighborhood. After working his way up the culinary ladder for more than a decade under the watchful eye of nationally renowned chef Jonathan Waxman, the Culinary Institute of America graduate and his wife Charlotte returned to his native Houston to open their dream restaurant. Ostia will feature a la carte meats, pasta, seasonal salads, and diverse sides – the totality of which is rooted in the philosophies of farm to table, seasonality, and simplicity focused on sourcing local and sustainable food. For more information, please call 713-324-9288 or visit www.ostiahou.com.
ABOUT TEXAS HEART INSTITUTE (THI)
The Texas Heart Institute, founded by world-renowned cardiovascular surgeon Dr. Denton A. Cooley in 1962, is a nonprofit organization dedicated to reducing the devastating toll of cardiovascular disease through innovative and progressive programs in research, education, and improved patient care. THI's scientists and physicians conduct fundamental biomedical, translational, and clinical research in cardiology, cardiovascular surgery, molecular-based medicine, stem cell and gene therapy, and regenerative medicine both independently and in collaboration with organizations worldwide. As global leaders of patient care for nearly six decades, Texas Heart Institute has been ranked among the top cardiovascular centers in the United States by U.S. News & World Report for the past 30 years. THI is dedicated to spreading awareness and sharing updates on ways to prevent, treat and defeat cardiovascular disease. With over 10 million visitors coming to its website from around the world every year, www.texasheart.org is just one of the ways THI is helping to educate people on the importance of heart health. For more information, please visit https://www.texasheart.org.
---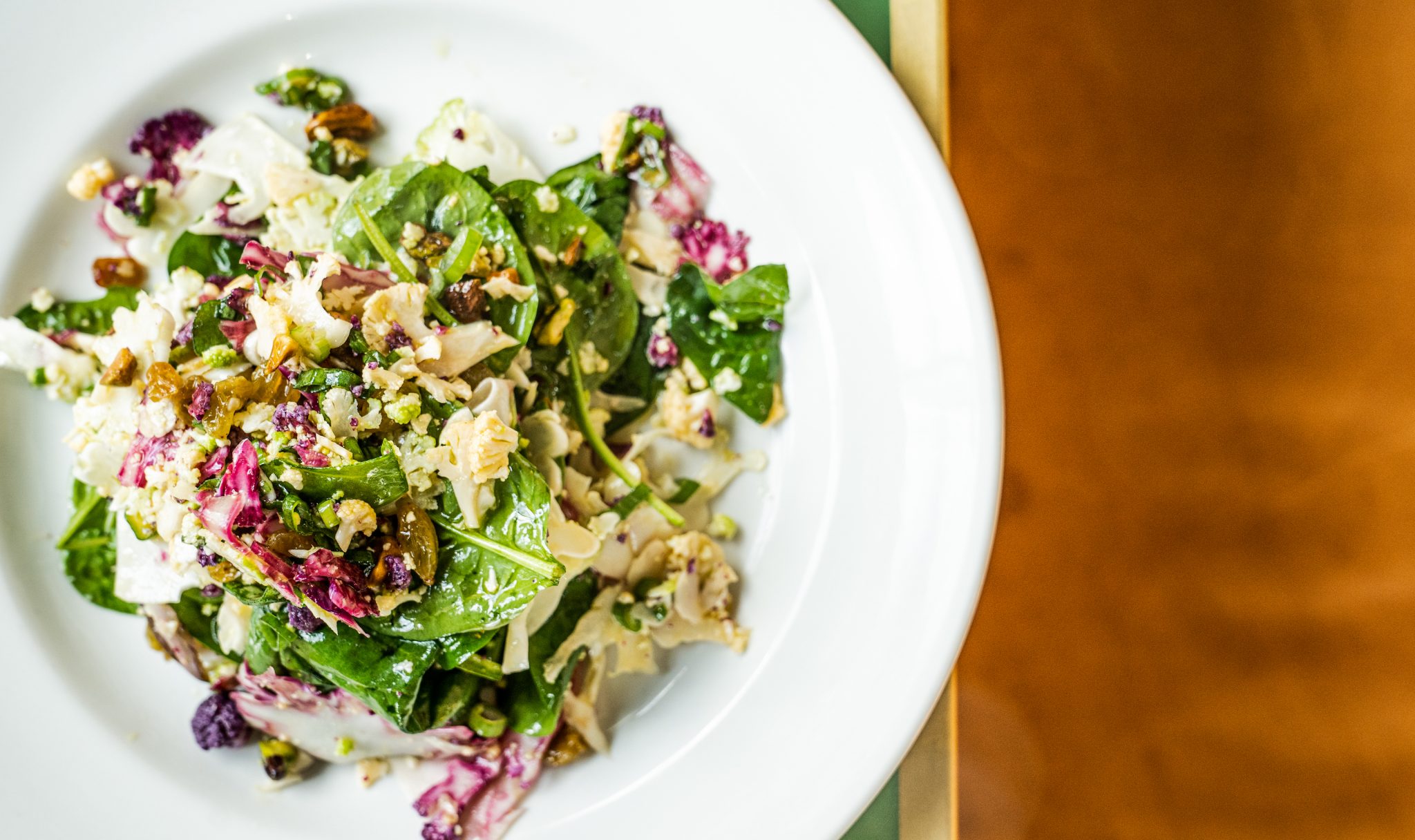 1 head of cauliflower
2 cups of tatsoi (or baby spinach works as well)
1 cup of toasted pistachios (chopped)
1 cup of golden raisins
½ cup of sliced scallions
2.5 oz of white balsamic vinegar
4 oz extra virgin olive oil
Salt and pepper to taste
Instructions: Slice one head of cauliflower on a Japanese mandolin on fine setting into a large mixing bowl.  Add all ingredients.  Season with salt/pepper, vinegar & extra virgin olive oil to taste. Serve immediately.
---
About Chef Travis McShane
Ostia – meaning "host" in Italian – is the brainchild of rising star Chef Travis McShane, a University of Texas and CIA graduate who has spent more than a decade rising through the ranks in the kitchens of acclaimed chef Jonathan Waxman. Working his way from extern to line cook to Executive Chef at Barbuto in New York and, later, at Adele's in Nashville, Chef Travis ultimately advanced to the position of Corporate Chef for Waxman – overseeing all culinary operations and menus for his restaurants in New York City, San Francisco, Nashville, and Atlanta.
The Houston native's culinary prowess is now on full display at the Italian-and Mediterranean-inspired concept – the totality of which embodies the cuisine, ambiance and philosophies learned from his extensive travel experiences throughout Italy and Europe.
"At its heart, Ostia is a neighborhood restaurant, a place to hang out with friends and family to enjoy a delicious meal together whether you live around the corner or not," said Ostia Executive Chef / Owner Travis McShane. He added, "My wife Charlotte and I have had amazing culinary journeys, many of which have shaped me personally and guided my vision. Our goal is to bottle those experiences up and serve them to Houston diners in a unique, approachable, and thoughtful environment. We aim to be an every occasion dining destination that happens to serve remarkable tastes in a memorable atmosphere."
---